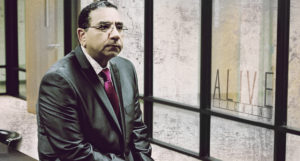 Reverend Dr. Casey R. Kimbrough (affectionately called Pastor K) is a spiritual thinker with unusual awareness and ability to bring together analytical thinking, and discernment of spirit.  These qualities equip  him with the ability to diagnose problems and prescribe solutions.  Recognized as an innovator in servant leadership and spiritual direction, his voice is in great demand.  He is sought out to speak on these topics at conferences, multi-day retreats, weekend church services, training events and other special engagements.  Dr. Kimbrough serves with love, humility, strength, and excellence.  His welcoming smile and charisma endears him to all.
He and his wife LeeDonna (Lady K), along with their three children: Casey Jr., Alexander, and Rebecca make their home in Charlotte, North Carolina.
Dr. Casey R. Kimbrough's advance studies include ethical and social dimensions of spirituality. Over 28 years of ministry experience has uniquely equipped him to offer fresh and innovative approaches to ministry. Dr. Kimbrough has served as the Senior Pastor of The Mount Carmel Baptist Church Charlotte, North Carolina for 24 years.  An educator and spiritual leader, Dr. Kimbrough serves as an Adjunct professor at Johnson C. Smith University as well as Chaplain for the Carolina Panthers (NFL).
His educational background includes Engineering, Theology, and Spirituality. He received his Bachelor's in Mechanical Engineering Technology from The Pennsylvania State University, Masters of Divinity from the Colgate Rochester Crozer Divinity School and his Doctor of Ministry from Columbia Theological Seminary.
He got his start while serving as a student Chaplain at The University of Rochester while attending Colgate Rochester Crozer Divinity School in Rochester, New York. He has also served in many leadership positions and continues to mentor young leaders. Most recently, he has added author to his list of accomplishments with the publication of his new book: "Strength – Encouragement and Comfort Through Transition, Trial, and Trouble." He spends most of his time as a Spiritual leader and teacher pouring into the lives of others.
You are invited join him in conversations at:
Follow at: Twitter.com/caseykimbrough
Facebook: Facebook.com/caseykimbrough
Email: casey.kimbrough@mcbaptist.org